We currently have two great bridge holidays coming up. First is our trip to Cadiz in May and then we have a trip to Sesimbra in September. Sign-up to our newsletter below to make sure you stay up to date with upcoming trips.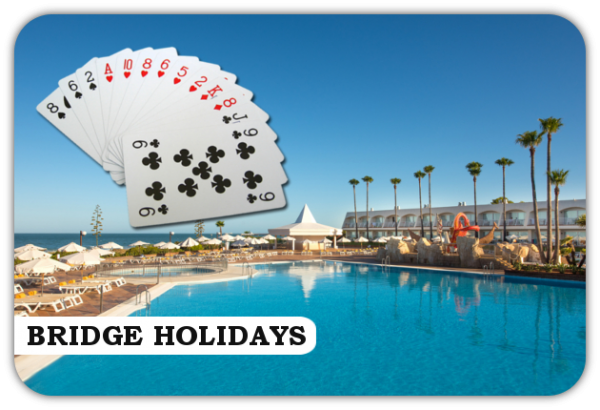 Sean Skehan's Planned Bridge Trips for 2023
Athena Beach Cyprus - The Athena Beach is perhaps one of my favourite hotels anywhere in the world, directly on the beach, service, food and welcome are absolutely outstanding. We only include dinner on four nights - the reason for this is that the hotel is within walking distance of about 10 or 12 really outstanding restaurants which you should really experiment with. The hotel is directly onto the beach but at the front door you can turn left and walk to the beautiful port of pathos where all bars and restaurants are available to you. The journey to Cyprus is quite a long (5 hours) but one thing that you have to remember is that when you get there the hotel is literally 12 minutes away so all in all the journey is probably similar to anything you would get anywhere else. Definitely one of my favourite places in the world and the weather at the end of April is going to be gorgeous.
---
Corfu Holiday Palace - This will probably be a new destination to everybody, but Corfu is a beautiful island and the Holiday Palace is a lovely hotel. You are perched on a cliff only about 10 minutes from the airport and beautiful views overlooking the Mediterranean. The hotel also has its own private beach which you go down to on a sort of lift. One of the features here is that directly outside the door you catch a bus to the centre of Corfu for the "huge" price of 1 euro. There is also another bus service stopping outside the door of the hotel where you can have a tour of the island of Corfu for I think something like 18 euro. You also can walk outside the door of the hotel and there are a number of really friendly to taverners, have a look around and absorb the atmosphere. This is a really lovely hotel and at the price a definite bargain.
---
Hotel Caesar Augustus, Lido di Jesolo - This hotel is more expensive than any of the other venues and essentially this is because, as my long-time assistant Laura who is Italian tells me, while it is Italy after all so it is not necessarily any better than the other hotels if you're using but Italy is that little bit more expensive. Middle of September, really gorgeous and again the hotel is directly on the beach and you walk out the front door to about 2 kilometres of bars shops all sorts of things loads of things to do and in addition to that of course a day trip to Venice is a something to very much to remember. A little bit more expensive but definitely worth it.
---
Sesimbra Hotel and Spa, Portugal - This one is a repeat from 2022 and the reason, quite simply, is that this is one of my favourite hotels anywhere! It's an absolutely charming hotel directly on the beach and every room has its own balcony and sea view, you feel as though you are getting something that you would pay a lot more for in other locations. Again I've only included dinner on four nights here because again I feel that you would miss out on your experience of Sesimbra if you didn't walk out the door of the hotel and explore the town. It is still a working fishing village so it's no surprise to know that the variety of fish restaurants within probably 200 metres is absolutely fabulous. I make no excuses for repeating it from 2022 - this is really a lovely lovely hotel and unfortunately this year we've had to disappoint about 30 people who tried to book on it and unfortunately the hotel was full but we are all looking forward to 2023.
---
CALL SEAN - 01 8336983 | 087 8333915 OR EMAIL sean@killestertravel.com